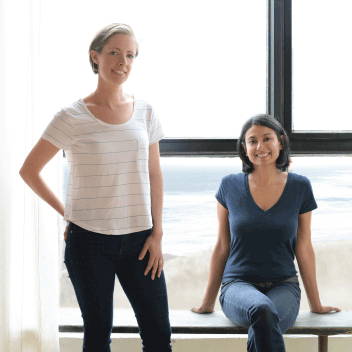 "We didn't think it should be so hard to find current, luxurious bedding."
- Eva Bauer and Hetal Jariwala
We'd looked high and low for beautiful bedding, but the designs always felt dated and boring, and neither of us could bear to buy another duvet cover that we weren't excited about. We wanted bedding that felt current and fresh, and wrapped us in all that we loved about the west coast.
Eva grew up in southern California and had childhood memories of summers on the beach and winters exploring the Sierras and nearby deserts. These experiences cultivated a deep personal connection with nature: the outdoor world is something inspiring and worth preserving.
Hetal grew up in the US but was born in India and much of her family is still rooted in the textiles industry there. It's a rich tradition where the workers take pride in the growing, milling, and sewing. Each worker represents a story, each with his or her own aspirations, hopes, and dreams.
When it came to manufacturing, we knew we wanted to improve on the standard norms of production. We joined Fair Trade because we want our bedding to be more than the print, the fabric, or the thread count. Our bedding is about the lives affected through its production. It's about the soils that are enriched rather than eroded. To us, these aspects are just as important as having stylish, luxurious bedding.
We kept our bedding simple with designs that could be easily mixed and matched, so it's easy to put together "the look". Ultimately, we wanted your bedding to make you smile, for both the fresh designs as well as its positive impact.
- Eva and Hetal