On Sale
Sonora Pillowcase Set
More than just a place to lay your head. Rest easy on this pillow set with softness and purity you'll feel from the first touch. Designed for easy mixing / matching. Change it up, or pair your duvet with it's perfect match.
100% Fair Trade Certified™
100% Organic GOTS Certified – free from heavy metals, formaldehyde, and AZO dyes.
Set of 2 pillowcases.
Made from the finest long staple organic cotton.
Woven from premium single-ply yarn.
Long lasting and super soft 400 thread count.
Envelope style keeps the end of your pillow covered and tidy.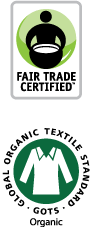 FREE SHIPPING + RETURNS   /   60 NIGHT GUARANTEE
Serious Softness
Bring a little luxury to your sleep routine with our sunkissed, buttery-soft fabric. Incredibly soft right out of the box and even better with use.
Made Right
Our products have been made to the most ethical and sustainable standards every step of the way. Our cotton is organically grown in the rain-fed fields of India, then processed and printed without harmful chemicals.
And by purchasing our Fair Trade Certified™ products, you are giving back to the communities that bring your bedding to life.
Organic + Fair Trade: Better for producers, better for the planet, better for you.
West Coast Inspired
Our designs are about a casual style inspired by our cool coastal airs, sunny fresh fields, and a deep sense of connection to the outdoors.
Sizes
Queen: 20" x 27"
King: 20" x 37"